Paradise can not be divided into any number of residential units.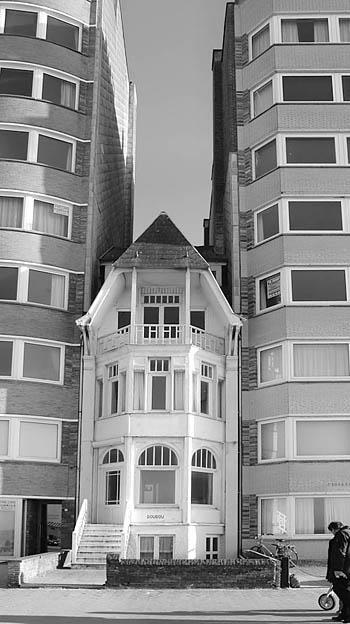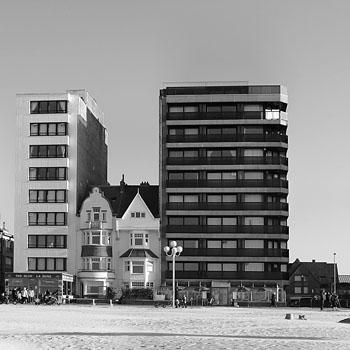 In his current exhibition, which can be seen since the 14th of April 2011 in Dom Hotel, Cologne, the Cologne designer, photographer and Wesemann-NewMedia CEO Dan Hummel is busy with Sea Views. Already in a previous exhibition he showed impressions and opinions from our neighboring country Belgium - but this time he traveled along the North Sea coast.
 
Here his Sea View is inseparable from the houses in front. "If every Belgian wishes his own apartment with a sea view, one must - with a total coastline of about 80 km - stack the corresponding apartments vertically," muses the artist.
 
Immediately the viewer of the black and white photographs asks him or herself whether the search for peace and solitude by this sea still can be fulfilled. Some pictures taken with a panoramic Noblex camera show the headstrong, Belgian coastline in a new and unusual length. Also included in Sea View are impressions from the country and coast. The large-scale views of the often bizarre scenes of houses overlooking the sea, show that the paradise can not be divided into many small crumbs.
From the press release for the exhibition
"How much ugliness can a strip of land endure? A house with such a pointed roof that it could have sprung from a child's drawing, a three-dimensional bad joke, not the first and probably not the last. The finished villas with bright tiles are even more disconsolated than the apartment buildings; painted fences, cut grass, order, emptiness. Wealthy boredom, reminiscent of dreary summer Sundays in the upmarket suburbs of the Western world, of Berlin-Steglitz or the American Suburbs, of highly polished cars in front of driveways, of happiness that is trying to chase down death, of lying, cheating, of the infidelity, of all the desires of countless biographies.
No crime was left out; what you see is desecration of architecture. Suddenly, behind a curve, ten-storey houses with gabled voluminous roofs. Which building council could approve this? Who bribed who, 25 years ago? "
from mare online